Canada's Competition Bureau, an arm's length agency funded by Prime Minister Justin Trudeau's government to the tune of almost $50 million annually, investigated three organizations accused of denying mainstream climate science for over a year, following a complaint from an environmental group.
The bureau discontinued its 14-month probe in June, citing "available evidence, the assessment of the facts in this case, and to ensure the effective allocation of limited resources", according to Josephine A.L. Palumbo, Deputy Commissioner of Competition, Deceptive Marketing Practices Directorate.
But it will re-open its investigation should it receive relevant new information from the public.
The complaint was filed by Ecojustice on behalf of six "prominent" Canadians, including former Ontario NDP leader and UN ambassador Stephen Lewis.
It accused three groups, Friends of Science, the International Climate Science Coalition, and the Heartland Institute of making false and misleading claims about climate change, including that the sun is the main driver of climate change, not carbon dioxide, and that carbon dioxide is not a pollutant.
When it launched its complaint in December, 2015, Ecojustice told the National Observer it would press the Commissioner of Competition to refer the matter to the Attorney-General of Canada for "criminal charges against the denier groups".
In response to the Competition Bureau discontinuing its probe, Calgary-based Friends of Science said on its blog that: "The Competition Bureau is a very important enforcement agency. We regret that any of their time had to be wasted on this matter. We are not a commercial entity, we do not have federal lobbyists, we are not tax-subsidized as environmental charities are, we do not represent any industry. We only present the professional insights and expertise of our core team and represent the views of our individual members (not corporations). The typical process for Competition Bureau inquiries is confidential; Ecojustice appeared to use this call for inquiry to grandstand."
Read More
http://www.torontosun.com/2017/09/13/canada-now-investigates-climate-denial
The path of viewing spots for this month's solar eclipse cuts overwhelmingly through places that voted for Trump. http://bos.gl/vwdmuS4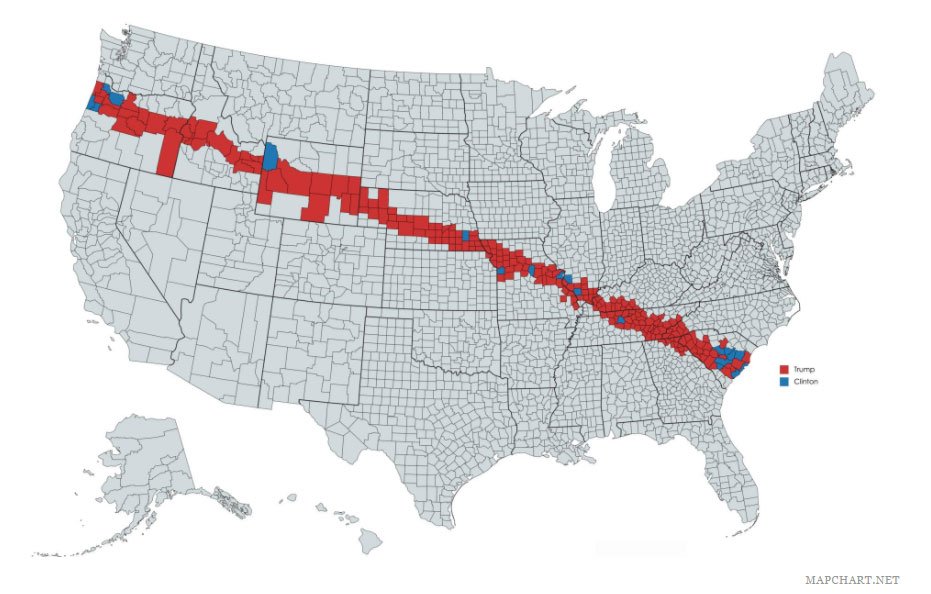 Can Christian workers refuse to sell alcohol also? I know I was told it was a job requirement to do so.
This is Aldi in Northampton,reason Muslim cashier total disgrace and appeasement pic.twitter.com/ueI14MDdC8

— Graham koller (@GrahamGtk1954) August 17, 2017
DEFINE Coup D'etat
The sudden overthrow of a government by a usually small group of persons in or previously in positions of authority.
The sudden overthrow of a government, differing from a revolution by being carried out by a small group of people who replace only the leading figures.
sudden decisive exercise of force in politics; especially : the violent overthrow or alteration of an existing government by a small group sudden defeat of a government through illegal force by a small group, often a military one
Today, America would be outraged if U.N. troops entered Los Angeles to restore order. Tomorrow they will be grateful! This is especially true if they were told that there were an outside threat from beyond, whether real or promulgated, that threatened our very existence. It is then that all peoples of the world will plead to deliver them from this evil. The one thing every man fears is the unknown. When presented with this scenario, individual rights will be willingly relinquished for the guarantee of their well-being granted to them by the World Government.
Dr. Henry Kissinger, Bilderberger Conference, Evians, France, 1991
The drive of the Rockefellers and their allies is to create a one-world government combining supercapitalism and Communism under the same tent, all under their control. Do I mean conspiracy? Yes I do. I am convinced there is such a plot, international in scope, generations old in planning, and incredibly evil in intent.
Congressman Larry P. McDonald, 1976
We shall have world government whether or not you like it, by conquest or consent.
James Warburg to The Senate Foreign Relations Committee on February 17th, l950
The UN is but a long-range, international banking apparatus clearly set up for financial and economic profit by a small group of powerful One-World revolutionaries, hungry for profit and power.
Curtis Dall, FDR's son-in-law as quoted in his book, My Exploited Father-in-Law
Countless people will hate the new world order and will die protesting against it. When we attempt to evaluate its promise, we have to bear in mind the distress of a generation or so of malcontents, many of them quite gallant and graceful-looking people.
H. G. Wells, in his book entitled The New World Order (1939)
My country's history, Mr. President, tells us that it is possible to fashion unity while cherishing diversity, that common action is possible despite the variety of races, interests, and beliefs we see here in this chamber. Progress and peace and justice are attainable. So we say to all peoples and governments: Let us fashion together a new world order.
Henry Kissinger, in address before the General Assembly of the United Nations, October (1975)
Lincoln was not very popular until revisionist changed the narrative….
He was so hated in the North that the New York Times editorialized a wish that he would be assassinated. This is perfectly understandable: He illegally suspended Habeas Corpus and imprisoned tens of thousands of Northern political critics without due process; shut down over 300 opposition newspapers; committed treason by invading the Southern states (Article 3, Section 3 of the Constitution defines treason as "only levying war upon the states" or "giving aid and comfort to their enemies," which of course is exactly what Lincoln did).
He enforced military conscription with the murder of hundreds of New York City draft protesters in 1863 and with the mass execution of deserters from his army. He deported a congressional critic (Democratic Congressman Clement Vallandigham of Ohio); confiscated firearms; and issued an arrest warrant for the Chief Justice when the jurist issued an opinion that only Congress could legally suspend Habeas Corpus.
He waged an unnecessary war (all other countries ended slavery peacefully in that century) that resulted in the death of as many as 850,000 Americans according to new research published in the last two years. Standardizing for today's population, that would be similar to 8.5 million American deaths in a four-year war.